Representation in Austria since 1983
Burde & CO GmbH
Phone: +43 (0)1 4023973-0
Email: service@burdeco.com
Drill and turn quality brass rods
Standard alloy CuZn39Pb3 n. DIN 17660
further CuZn40Pb2, CuZn39Pb2, CuZn38Pb1,5, CuZn36Pb3
Round bars pressed 18 – 80 mm
Drawn round rods 6 – 60 mm
Drawn hexagon rods 6-60 mm
Drawn square bars 6-60 mm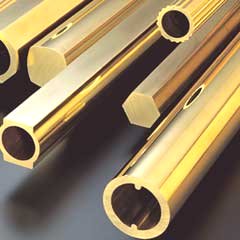 Bar stock list for CuZn39Pb3, free cutting brass
Round bars from 6-60 mm
Hexagonal rods from 6-60 mm
Hollow rods / tubes made of CuZn39Pb3, free-cutting brass
Round and hexagonal up to an outside diameter of 60 mm and a wall thickness of 15 mm
Brass profile bars in drilling and turning quality
Dezincification resistant brass rods and tubes
in the alloy CuZn36Pb2As according to type approval no. 1582/80 and no. 1584/80 of Statens Planverk, Schweden
Brass tubing made from lead-free and low-lead alloys
CuZn37, CuZn36, CuZn36Pb1,5, CuZn37Pb0,5
Round tubes up to 65 mm
Wall thickness up to 5 mm
CUPHIN – lead-free special brass
Lead-free special brass - chemical composition (nominal, mass fraction)
CUPHIN, DIEHL Leg. 430Pbf is characterized by its lead-free nature. It already fulfills, among other things, the EU directive for electrical and electronic equipment and contributes to the already positive environmental balance of all brass materials.
Cu: 76 %
Si: 3 %
P: 0.05 %
Zn: Rest
Manufacturing program
Drawn round rods 6 – 70 mm
Drawn hexagon rods 6-70 mm
Drawn profile bars 6-70 mm
Tubes 20 – 120 x 2 – 12mm (AD x WD)
Physical Properties
Density 8.3 g/cm³
Electric conductivity 4.5 m/Ωmm²
Thermal conductivity approx. 35 W/mK
E – Modul 100 GPa
Mechanical properties
The Alloy CUPHIN, DIEHL Leg. 430Pbf shows a considerable potential for high-strength properties for different applications. This results in advantages both in the dimensioning of new components and in the design of existing ones. The high strength combined with high elongation at break is otherwise only known from a few types of steel and is therefore an excellent substitute material.
Rm Tensile strenght 700 MPa
Rp 0.2% – Yield point 480 MPa
A5 Elongation at break 23 %
Hardness 180 HB
Notch impact work EN 10045 (U-Kerb) 14 J
Corrosion properties
The use of the alloying element P (phosphorus) means that the requirements for dezincification resistance according to ISO 6509 are met. In addition, holds CUPHIN, DIEHL Leg. 430Pbf easily meets the specifications of DIN 50916-T1 with regard to resistance to stress corrosion cracking.
Structure / processing properties
CUPHIN, DIEHL Leg. 430Pbf shows a novel structure of α-, κ- and γ phase. The silicon-rich κ and γ phases cause a short-breaking chip shape and thus good machinability. This eliminates the use of lead.
Machining: Chip form short-brittle, opposite tool wear CuZn39Pb3 slightly increased
Forge: Slightly increased forming forces, tighter temperature control
Cold forming: good
Hot stamping: very good
Surface treatment: polish well, electroplate well
Connect: Inert gas/resistance welding good, hard/soft soldering very good
Heat treating: Thermal relaxation 200 – 400°C, soft annealing 550 – 700°C